| | |
| --- | --- |
| | My Special Page |
This page outlines our business principles and offers some personal thoughts I'd like to share. We also offer a few special items for sale.
| Preservation Policy | Our Guarantee | Plant Sizes | More About |
| Happy Customers | Recycling | Pine Ridge Shoppe |
| Main Pine Ridge Menu |

Policy: We Don't Collect Plants in the Wild
"The Frog Does Not Drink Up The Pond
In Which He Lives." Indian proverb
You will not find Lady Slipper orchids nor many of the spring ephemerals here. While I do know that there are a FEW nurseries that are growing them from seed - they are few & far between. We do not believe in collecting plants from the wild. Yes, we do believe in plant rescues - but only if it is a true rescue .... not just a word to use to try to justify digging plants in the wild. If you see lists of wildflowers and the prices seem to be too good to be true, believe me, they have been collected. If people will stop buying collected plants, the collection of plants will stop. Native plants are wonderful, but please buy only from nurseries who sell nursery propagated plants. Join your state native plant society and take a hike to see the wildflowers ..... and leave them for your great-grandchildren.
---
Many people are able to come to our nursery, see the plants for themselves & carry them off. I realize though, that most people cannot have this opportunity & simply have to rely on an old fashioned term - trust. I hope you will always be happy with the plants when you receive them - if not, please let me know within a week's time.
We guarantee all plants to be alive and healthy when you receive them. We cannot be responsible for the plants after they have safely arrived as we have no control over your cultural methods. Please research any unfamiliar plants so you will know what their requirements are.
We prefer to ship only actively growing plants, however, sometimes either the time you want to get your plants, or the habit of the plant itself, may dictate that you receive dormant plants. Please plant them right away, in the environment they need & should they for some reason, not come out of dormancy (and you have done your part), let me know & we can usually replace them.
---
Plant Sizes
Most plants are shipped in containers with soil ball intact. Plant sizes range from 3 1/2 inch by 3 1/2 inch pots to quarts, half gallons, gallons, large treepots (4" x 4" x 16" deep). In the paper catalog, most plants show what size pot they are in. Rest assured, whatever the size of the pot, it will contain a healthy, well rooted plant.
---


More about Pine Ridge Gardens

Our nursery was born in 1992, conceived out of a love of planting seeds, watching them germinate & grow. We are a small nursery, with most plants being in small quantities. A few things germinate exceptionally well every year, so some plants are available in large quantities. Please ask.
---
Happy Customers
Below is a sampling of comments received
from our mail order customers.
Condition of plants: very good, nice packing job.
P. Pobst, Arkansas
Condition of plants: Excellent as always.
A. Tussing, Ohio
Condition of plants: Very good! Your plants are the best.
Carl Hunter, Arkansas
If there's a word better than excellent - that's what they are. Best packaged plants we have ever received. Mrs. D. Carpenter, Oklahoma
Condition of plants is outstanding. Beautifully packaged.
Allen Bush, Lexington, KY
Highest degree of excellence. Ordering from you is like sitting across the kitchen table sharing a cup of coffee. Thanks,
M. Blanton, Mississippi
As usual, the plants are in the best condition. You send the best that that I have ever ordered, better than other nurseries. Thanks so much.
B Rhodes, Oklahoma.
Condition of plants: Excellent. As always, you all did a great job growing and packing the plants.
M. Cook, Florida
It was like Christmas! Other nurseries should take lessons from you on how to pack plants! You have it down pat! You'll be hearing from me again.
N. Richey, Texas
---
Recycling at Pine Ridge Gardens
We use recycled boxes whenever we can and the 'peanuts' are also recycled. Peanuts, being lightweight, help keep down shipping costs. They help get your plants to you with no damage & recycling them keeps them out of the landfill. Anyone returning the peanuts to Pine Ridge Gardens will get a $5.00 coupon for use on the next order. If you are adamantly against receiving recycled peanuts in your order, please advise on your order blank.
---


Pine Ridge Shoppe
| Seeds | T-shirts | Recordbook |
Books for sale
Books that can be included with your plant order will have no extra shipping charge.
Books shipped alone will be $7.00 for 1st book, $1.00 for each additional book.

---

NEW: Bringing Nature Home - How Native Plants Sustain Wildlife in our Gardens.
Douglas Tallamy
$27.95

---

NEW: Checklist of the Vascular Plants of Arkansas
Arkansas Vascular Flora Committee
$22.50

---

Butterflies and Moths of Arkansas
$27.95 Lori Spencer

---

NEW: Caterpillars in the Field and Garden by Thoms J Allen, Jim P Brock, Jeffrey Glassberg 232 pages, over 900 color photographs of caterpillars, essential tips on butterfly gardening, color range maps. This is great! $29.95

---

Wildflowers of Arkansas by Carl Hunter
Hard cover $38.00 soft cover $35.00

---

Trees, Shrubs & Vines of Arkansas by Carl Hunter
Hard cover $30.00 Soft cover $25.00

---

Autumn leaves & berries by Carl Hunter
Soft cover $13.00

---

Wild Orchids of Arkansas by Dr. Carl Slaughter
$20.00 Hard cover
Gorgeous color photos with text on an unbelievable number of Arkansas native orchids.

---

TALLGRASS PRAIRIE John Madson/Frank Oberl
A Nature Conservancy book by Falcon Press $29.50

---

Ozark Wildflowers Don Kurz $19.95
A field guide to common Ozark wildflowers which covers parts of Arkansas, Oklahoma, Missouri, Kansas & Illinois. Soft Cover.

---

Everything you ever wanted to know about butterflies.
by Gary Noel Ross, Ph.D Over 100 Questions & answers about butterflies and a detailed glossary. $12.95

---

Native Trees, Shrubs, and Vines: A Guide to Using, Growing, and Propagating by William Cullina $sold out
396 pages – 200 color photographs & almost 1000 species are covered

---

Seeds for Sale
"To plant a seed is to believe in miracles." Anon.
From time to time we have more seed than we need. I'm sorry to not have a listing here at this time - if you have a particular interest in a native plant seed, please inquire as we have extra seed from time to time.
---
T-Shirts Available
We have attractive T-shirts in soft sandy beige with a forest green design (the image below) on the front. Our mission statement, "....helping restore the earth," appears on the back.
Medium, Large & X-large in 100% pre-shrunk cotton.





T-shirts: Sold-out.
---
A Seed Starting Recordbook©
A NEW item in the year 2000 was a collaboration with a dear friend and fellow gardener. An outgrowth of necessity here at the nursery for a better organized method of recordkeeping. This is primarily a seed starting record book designed to track seed germination and growth.
A sturdy spiral bound book, 8 1/2 by 11, with hints for better seed germination & thoughts of better ways to accomplish this. In addition, there are 50 pages for recordkeeping, 30 pages for notes & sketches and a pocket in the back. With its waterproof cover, the recordbook is a perfect companion when embarking on the delightful task of planting seeds.
For the novice or further advanced gardener, this book has, at your fingertips, a guide for growing your own plants from seed as well as a detailed recording plan. No more hunting for the information you wrote on the popsicle stick, or on the sticky note. $regretfully we are out until more are printed.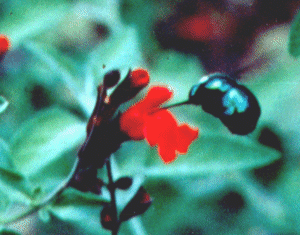 01/20/09